HEARING AIDS THAT FIT IN THE EAR
Getting the perfect fit for a hearing aid is simple with CAMISHA - Widex' advanced laser technology.
These hearing aids fit directly in your ear so it is important that they have the right shape and size for ultimate comfort and optimal sound quality. Explore our in-ear hearing aids.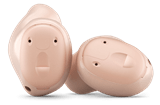 ITE hearing aids are suitable for most types of hearing losses. They are usually small like an eartip and sit in the outer portion of the ear canal. Depending on the size of the ear canal an in the ear hearing aid may be relatively discreet.
When you are fitted for an ITE, the shell of the hearing aid is custom-made to fit the shape of your ear. This shell contains all vital electronics and is great for people on-the-go who need their hearing aids to stay in place. The batteries are inserted via a battery door located directly on the hearing aid. They can be easily removed with a small magnetic wand.

COMPLETELY-IN-CANAL (CIC)
Completely-in-canal (CIC) hearing aids are a great option for those with mild to moderate-severe hearing loss who are looking for a discreet hearing aid solution. 
Depending on the size and shape of your ear, a CIC hearing aid can fit deep inside the ear canal, making it almost invisible. All Widex CIC hearing solutions are fully automatic – so you can hear clear and natural sounds with minimal or no intervention. CIC hearing aids can be removed via a small extension cord.
The IIC's are the smallest hearing aid models on the market. Invisible-in-canal (IIC) hearing aids use the ear's natural shape to localize sound. The custom-made shell is made to fit deep into your ear canals, making it virtually invisible.
IIC hearing aids fit so comfortably in your ears that you may forget you are even wearing them. They are also fully automatic, making the listening experience even more natural.