THE OTICON ON APP – IFTTT CONNECT TO THE INTERNET OF THINGS
So your new hearing aids are working great – but after a few weeks they start to look a little worn. What's the best way to clean your hearing aids without damaging them? We'll let you know in this handy guide.
The Oticon ON App enables your new Oticon Opn hearing aids to interact with other internet-connected devices and services
Trigger your lights, home alarm or smart thermostat when you turn your hearing aids on or off. Tell your hearing aids to notify when your battery is low, the laundry is finished, or someone's at the door. With Oticon ON, it's all up to you.
Connect to the Internet of Things
With the Oticon ON App you unlocks the power of the internet of things. IFTTT (If This Then That) is an ever expanding internet based service, which enables you to integrate your hearing solution with a vast range of products and solutions. For example home applicances, lighting systems, mobile phones, e-mail, calendar, and much more.
Install the Oticon ON App
Available on iPhone, iPad, iPod touch, Apple Watch and Android devices. The Oticon ON App is the connection between your hearing aid and IFTTT service.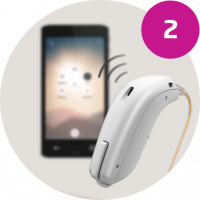 Use the Oticon ON App to create your ON account. This account enables you to connect to the IFTTT services and unleash the full power of the Oticon ON App.
Go to the IFTTT website and the explore the endless possibilities that IFTTT universe provides you with. Let your imagination run free and be inspired by the seemly infinite number of possibilities that IFTTT together with Oticon ON offers you.
Download the Oticon ON App here
Oticon ON App for Oticon Opn hearing aids is compatible with iPhone 7 Plus, iPhone 7, iPhone SE, iPhone 6s Plus, iPhone 6s, iPhone 6 Plus, iPhone 6, iPhone 5s, iPhone 5c, iPhone 5, 9.7-inch iPad Pro, 12.9-inch iPad Pro, iPad Air 2, iPad Air, iPad (4th generation), iPad mini 4, iPad mini 3, iPad mini 2, iPad mini, and iPod touch (5th and 6th generation). Devices must be running iOS 9.3 or later.
The app also supports Apple Watch. When downloading the Oticon ON App on iPad, search for iPhone apps on the App Store. Oticon ON App is compatible with devices powered by Android 6.0, Marshmallow or above.