The right hearing solution is unique to your lifestyle, preferences, and needs - Phonak Hearing Aid
Phonak is one of the world's leading providers of hearing aids. Phonak products can dramatically improve quality of life and reduce limitations created by hearing loss. Always on the leading edge of innovation, Phonak hearing aids come in a variety of styles to match your lifestyle needs and preferences, with various options. Phonak offers wireless and Bluetooth connectivity as well as rechargeable and traditional battery powered models. The brand also boasts the world's only 100% invisible hearing aid, Lyric by Phonak
Phonak's latest platform, Belong, features new titanium custom hearing aids and the world's first 24-hour rechargeable hearing aid, the Audeo BR.
Phonak Hearing Aid History
Over its 70 year history, Phonak has focused on delivering cutting-edge hearing solutions. Phonak creates a diverse line of hearing aid devices to fit every need and type of hearing loss. All Phonak products are designed for ultimate comfort and clear sound. To make hearing aids technology-friendly, many Phonak devices use convenient Bluetooth connectivity to pair effortlessly with electronic devices including phones and TVs to make hearing and listening easier.
Center for Hearing Aids has enjoyed a long relationship with the Phonak brand, helping thousands of customers achieve better hearing and experience improved quality of life with Phonak hearing aids and accessories.
Phonak offers one of the most complete selections of hearing aids on the market to ensure you find the best model for your needs.
It's Phonak's versatility that makes the difference. A great hearing aid enables you to effortlessly move from one listening environment to another. You can go from the office, to your home, to social settings, and more, seamlessly. Phonak hearing aids also offer the unique ability to transfer speech signals between hearing aids, allowing you to hear everything simultaneously, with both ears. Styles range from hearing aids that are barely visible outside the ear, to models that offer exceptionally long battery life. Explore Phonak with HearingPlanet by talking with your Personal Hearing Consultant today and find out what the world of hearing solutions has to offer.
Autosense is an operating system designed to help you seamlessly move through your day. Hearing aids with Autosense adjust volume, program, noise reduction and several other features automatically as listening environments change.
Voicestream is Phonak's industry leading feature that allows their hearing aids to truly function as a wireless system, sharing data and sound between the ears. This goes beyond standard 'wireless' hearing aids which only share volume and program settings. This feature allows for you to experience true 360-degree hearing.
What happens when you have so much high frequency hearing loss that turning up the sound as loud as possible doesn't help? Or what if when you turn the volume up the sound becomes too distorted to understand? Phonak has introduced SoundRecover – a way for the hearing aid to collect high frequency sounds and lower their pitch, presenting them to your ear in a way that allows you to hear and understand them.
Our Personal Hearing Consultants are here to help you research and learn which type of Phonak hearing aid is best for you.
Phonak Hearing Aid Models
The Audéo B Series includes the first ever all-day, rechargeable, lithium-ion hearing aid: the B-R. Featuring the latest chip from Phonak: the Belong platform, a new automatic operating system, AutoSense OS, blends programs to provide premium sound.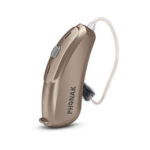 Durable yet sleek with a modern look and composite materials for long-lasting service, the Audéo V comes in four performance levels.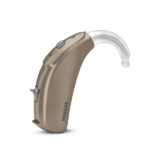 Bolero V gives you the latest in high-technology hearing aids with seamless performance in every listening environment.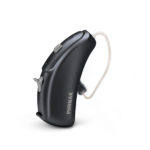 For people with profound to severe hearing loss, the Phonak Naída V drives improved hearing through high-powered technology.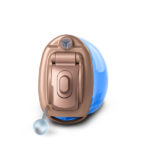 The Virto V stays out of sight while letting you converse with ease and stay in tune with everything going on around you.
It's not just a great hearing aid. It's a multifunctional marvel.
Custom hearing aid now also available in stylish black finish with direct connectivity and hands-free calls. 
Combining world's first technological innovations and child-specific designs to support children of all ages.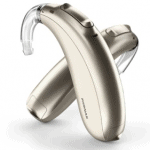 The hearing aid with powerful, rich sound featuring hands-free calls, Bluetooth streaming and maximum reliability.
Maximum reliability and robustness with a clear, rich sound experience and multifunctionality.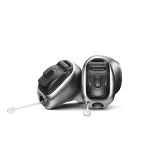 The latest generation of super discreet custom hearing aids made from titanium.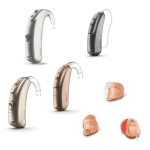 Delivers solid performance in a multitude of hearing situations.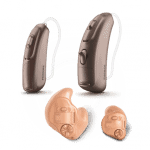 Picks up sounds and voices from the bad ear and wirelessly transmit them to the good ear.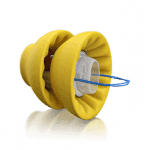 The first 100% invisible hearing aid. It can be worn 24/7 for months at a time.