New Interton Ready custom-made hearing aids
Interton Ready custom-made hearing aids make it easier than you might think to deal with your hearing loss. These new light-weight, custom-made hearing aids help you hear better even in noisy environments, and they're so small, they're almost
Interton was founded in Germany in 1962 and is today part of GN, a company dedicated to making life sound better through intelligent audio solutions that let you hear more, do more and be more than you ever thought possible.
We are the only company in the world with medical, professional and consumer grade audio technology under one roof. This gives us unprecedented knowledge of hearing and the human ear.
The Interton sound identity
Sound is at the heart of everything we do. That's why we've expanded our identity by adding sound.
The dotted rhythm is dynamic and happy and the tempo is bright and energetic. Just three notes make it simple, clear and memorable, reflecting Interton's straightforward, bold and resourceful identity.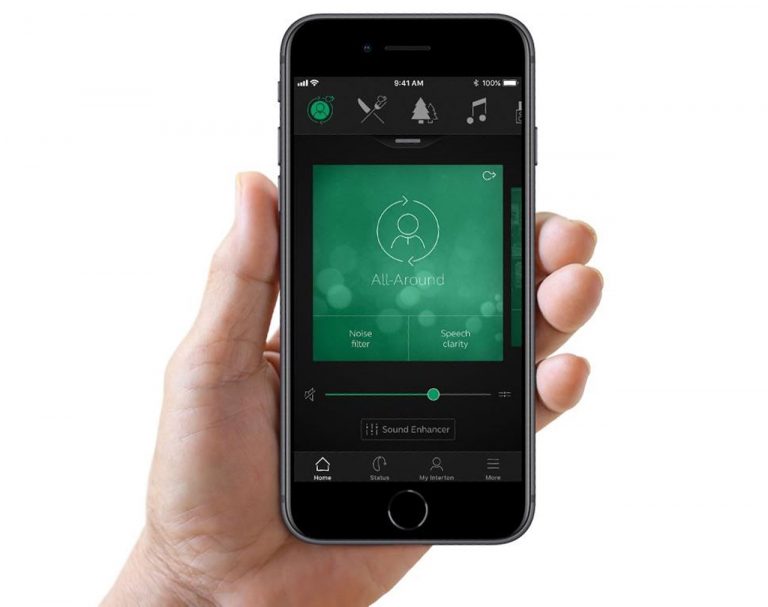 Your smartphone loves Interton
Now you can control and adjust your hearing aids with your smartphone too. Download the Interton Sound app to:
Avoid having to fiddle with your hearing aid in public and use the app to easily adjust sound and volumes.
Switch between pre-defined sound programs for the best hearing experience in every situation.
Pre-set your own personalized environments to tailor your hearing to the places you go every day.
Use "Hearing aid Finder" to locate your hearing aids if you misplace them.
Interton Ready is Made for iPhone, iPad or iPod touch
Interton hearing aids don't just connect you to people, use them to get more from your compatible Apple devices too.
There are loads of cool and useful things you might not realize you can do with your Interton Ready hearing aids. This includes direct streaming of phone and video calls, music, audio books, sports coverage or podcasts – directly to your hearing aids. You can effectively use them as wireless headphones with really great sound quality.
New Interton Ready custom-made hearing aids
Made for you and almost invisible
Interton Ready custom-made hearing aids make it easier than you might think to deal with your hearing loss. These new light-weight, custom-made hearing aids help you hear better even in noisy environments, they're so small, and almost invisible.