SIGNIA SIEMENS HEARING AIDS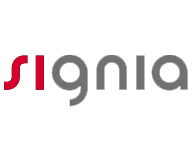 The reputable Siemens brand has been known for creating quality hearing solutions throughout its history. Siemens hearing instruments was recently acquired by Sivantos, Inc. and will continue to be branded as Siemens during their transition period. Sivantos has begun using the Signia name for its recently developed hearing devices. Signia and Siemens hearing instruments offer a wide range of high quality hearing aids. They design and build hearing aids with care combining their knowledge with the latest innovations in automated sound processing technology. They offer a wide range of hearing solutions and accessories to cater for almost any hearing need and preference.
Why Signia Siemens Hearing Aid?
Today's listening environments are more complex than they were even twenty years ago. Busy lifestyles combined with the constant use of mobile and digital devices now means you need hearing devices that can literally 'go with the flow.' That's where Signia & Siemens hearing instruments and accessories deliver exceptional solutions and value. Signia & Siemens hearing instruments offer Bluetooth® for hearing devices so you can regain those important connections in life.
Hearing aids from Signia now come in smaller models and styles so that even kids and teens can wear them discreetly. Rechargeable models are also available, as are devices to help with tinnitus. This is the moment where technology really can really help you enjoy life more. The personal Hearing Consultants at HearingPlanet are ready to help you improve your quality of life.
Eliminate the hassle of changing small batteries weekly with the Signia hearing instruments rechargeable hearing aid. These hearing aids are placed in a charger each night and are ready to go in the morning.  Plus, the charging unit also acts as a hearing aid dryer to eliminate moisture and humidity to prolong the life of your hearing aid.
 This is one of Signia's new features. When you hold a phone up to your ear, the caller's voice will stream into both hearings aids, giving you twice the input. For example, if you pick up the phone on the right side you would hear the phone call in your left ear also.
Any musician or music lover can tell you that experiencing live music is vastly different than listening to recorded music. Signia Primax hearing aids take this into account and have different settings for varying types of musical environments. So whether you're watching a live show, playing an instrument yourself, or listening to recorded music, you'll have a great listening experience.
Signia | Siemens Hearing Aid Models
Cellion Primax is the first inductive-charging, 24-hour Lithium-ion hearing aid and features SpeechMaster technology.
Proving yet again that big things do come in small packages.
A simple, comfortable solution you can put on and forget about. With all the technology you need to stay connected to your world, Signia Motion won't slow you down.
Designed and engineered for discretion, Signia's Pure packs the latest acoustic technology into a super-small size. Available in four performance levels.
T
he tiny Silk primax Click CICs are nevertheless invisible in the ear  with their flexible, swift fit Click Sleeves is a world's first OneMic directionality binauaral hearing aid
Fully featured. Binaural. Effortless. The premium design and high-end features of Pure primax hearing aids deliver outstanding and effortless hearing.