Wear them. Love them. Forget them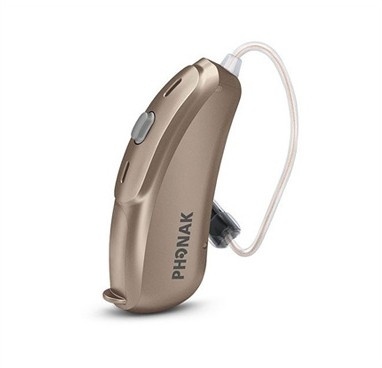 The Audéo V is a true lifestyle enhancer that delivers nuanced hearing and conversation with ease wherever you go. From crowded rooms to outside environments rife with ambient sound or even loud noises, the Audéo V has the capacity to handle every situation you encounter.
Understanding, interacting and engaging in conversation is what connects you with loved ones and the world around you. Audéo V hearing aids focus on speech understanding, comfort and ease-of-use, and are tailored to give you the listening experiences you desire. Audéo V hearing aids automatically adjust to your specific listening environment, letting you enjoy life, wherever you might find yourself.
Every day you move between many different listening situations. The sophisticated operating system in Audéo V hearing aids will adapt to your precise environment and deliver unmatched sound quality with minimal interaction. Unique to Phonak, the hearing aids send speech from one ear to the other – as if your hearing aids were talking to each other so that you hear everything with both ears.
Its automatic features include the ability to recall your sound preferences and even adjust settings as you move from place to place. The Bluetooth ready feature pairs your Audéo V hearing aids with a smartphone, television, tablet, and other devices of your choice. Options include four performance levels and customizable features. Audéo V comes with a three-year warranty and is available in a budget-friendly price range. To learn more about Phonak hearing aids and accessories, call CenterForHearingAids at +91-9810074489 and speak with one of our Professional Hearing Consultants.