WIDEX BEYOND HEARING AID – FOR IPHONE
With the new BEYOND hearing aid from Widex, you can enjoy the best that life has to offer. No other made-for-iPhone hearing solution sounds as good.
And no other hearing aid offers the same possibilities to connect to the world around you.

MADE FOR iPHONE,
MADE FOR YOU
Make the BEYOND hearing aid your own with the personalized App.
You can adjust sound settings and listening preferences, use personal pictures and even create sound templates for specific listening situations – such as being at a restaurant or with family and friends.
The BEYOND App also works if you have an Android phone.
BEYOND hearing aids are not waterproof.
EASY ADJUSTMENTS
WITH THE BEYOND APP
• Adjust volume on two hearing aids individually
• Choose between clarity of speech and comfort
• Select directionality of microphones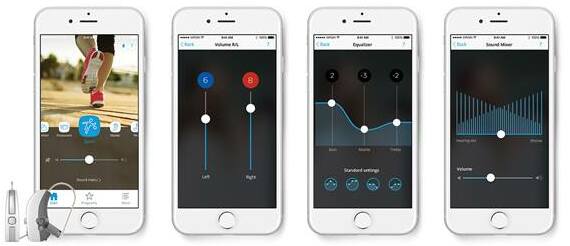 ENJOY MUSIC AND MOVIESFOR LONGER
The streaming functionality means that you can listen to music or enjoy the sounds of a movie through your BEYOND hearing aids, among others.
BEYOND supports wireless streaming in high quality stereo directly from your iPhone – or from your TV via the TV-DEX assistive device.
With the lowest power consumption of any hearing aid, BEYOND can stream for hours on end.
ALWAYS CONNECTED WITH DEX COMMUNICATION SOLUTIONS
The BEYOND hearing aid doesn't just keep you connected to your iPhone, but also to telecoils and to phones, televisions and more with the DEX range of communication solutions.
CRYSTAL CLEAR SOUND
IN ALL LISTENING SITUATIONS
Hear all the details.
The BEYOND hearing aid gives you incredibly advanced overall sound quality. It optimizes sound based on your environment – so you don't have to find  the most ideal listening conditions: they're created for you no matter where you are.
30% BETTER SPEECH UNDERSTANDING IN WIND
The SMARTWIND Manager in the BEYOND hearing aid has the best wind noise algorithm in the industry.
It significantly reduces wind noise annoyance, while increasing speech understanding.
The BEYOND hearing aid consumes less power than other similar hearing aids available – so you can hear and stream for longer.
The BEYOND hearing aid is designed specifically for the demands of connectivity. And that means you can change hearing aid batteries less frequently.